Join EENP - and some adorable puppies! - at Vimala's Curryblossom Café on Wednesday, August 14th from 6 pm to 8 pm to enjoy a delicious buffet dinner of authentic South Indian cuisine while supporting EENP!
We will be sending off our newest litter of puppies as they transition to the next step in their journey to become assistance dogs. The litter will be moving into prison the next day!
Please join us for a fun evening of socializing at Vimala's Curryblossom Café!
Vimala's will host a buffet dinner to benefit Eyes Ears Nose and Paws on August 14, 2019, with $7 of each adult dinner going to EENP. We will have a litter of puppies to greet you as you arrive! We will be gathering to send off our newest litter of puppies before they transition into living in prison for the next few weeks.
What: Buffet dinner includes meat entree, vegetarian/vegan entree, side dishes, naan, salad, and iced tea. Buffet will include vegan and gluten free options - no advance request needed. Additional beverages, including wine and beer, are available for purchase directly from the restaurant.
When: Wednesday, August 14, 2019 from 6:00 to 8:00 pm (restaurant closes at 9:00 pm)
Where: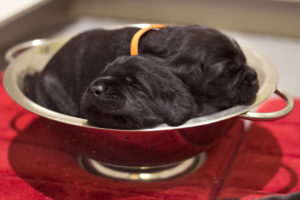 Vimala's Curryblossom Café is located inside the Courtyard:
431 W. Franklin St. Suite 16
Chapel Hill, NC 27516
How Much: Adults – $15  ($7 goes to EENP)
Kids 6 to 12 – $8  ($4 goes to EENP)
Children 5 and under complimentary
Prices include taxes and gratuity
Tickets:
Tickets can be purchased online from EENP. Vimala's Curryblossom Café is not involved in ticket sales. If the dinner does not sell out, tickets can be purchased online up to the time of the event and your confirmation email can be shown as proof of purchase. Walk-in tickets can be purchased with cash only, if space is available.
We appreciate your advance purchase of tickets so we can ensure there is enough food for everyone. We will be placing our food order a few days before the event and may limit ticket sales after that.
Your ticket purchase does not reserve a table for your group. Weather permitting, EENP supporters will be eating both inside and out in the courtyard, and we encourage our supporters to mingle and meet new friends. You can select a table in your preferred location when you arrive.
If you are unable to purchase tickets online, please call EENP's office at 919-408-7292 to purchase tickets.
Parking:
There are several options for parking:
The Courtyard parking lot behind the Courtyard (off S. Roberson St.) is a Town of Chapel Hill parking lot and payment is required until 8:00 pm. Parking in this lot is $1.50 per hour and the meter takes coins and credit cards. Do not park in reserved spots in this lot or you will be towed.
Parking is available on the roadsides of S. Roberson and Franklin Streets. Street parking in non-metered spaces is free after 6 pm.
Free two-hour parking is available in the parking deck at the Hampton Inn on Main St. in Carrboro (about a block from the restaurant).
Other Details:
The Courtyard does allow pet dogs in the courtyard (not inside the restaurant), but we will be keeping our puppies separated from other dogs so you may not be able to interact with the puppies if you bring your pet dog.