Eyes Ears Nose and Paws partners people with dogs to improve lives.
Eyes Ears Nose and Paws is a nonprofit organization located in Chapel Hill/Carrboro, North Carolina. We train and place Mobility Assistance and Medical Alert Dogs as well as provide ongoing support to working Assistance Dog Teams that have graduated through our programs. We are accredited members of Assistance Dogs International, a worldwide coalition of nonprofit programs that train and place Assistance Dogs.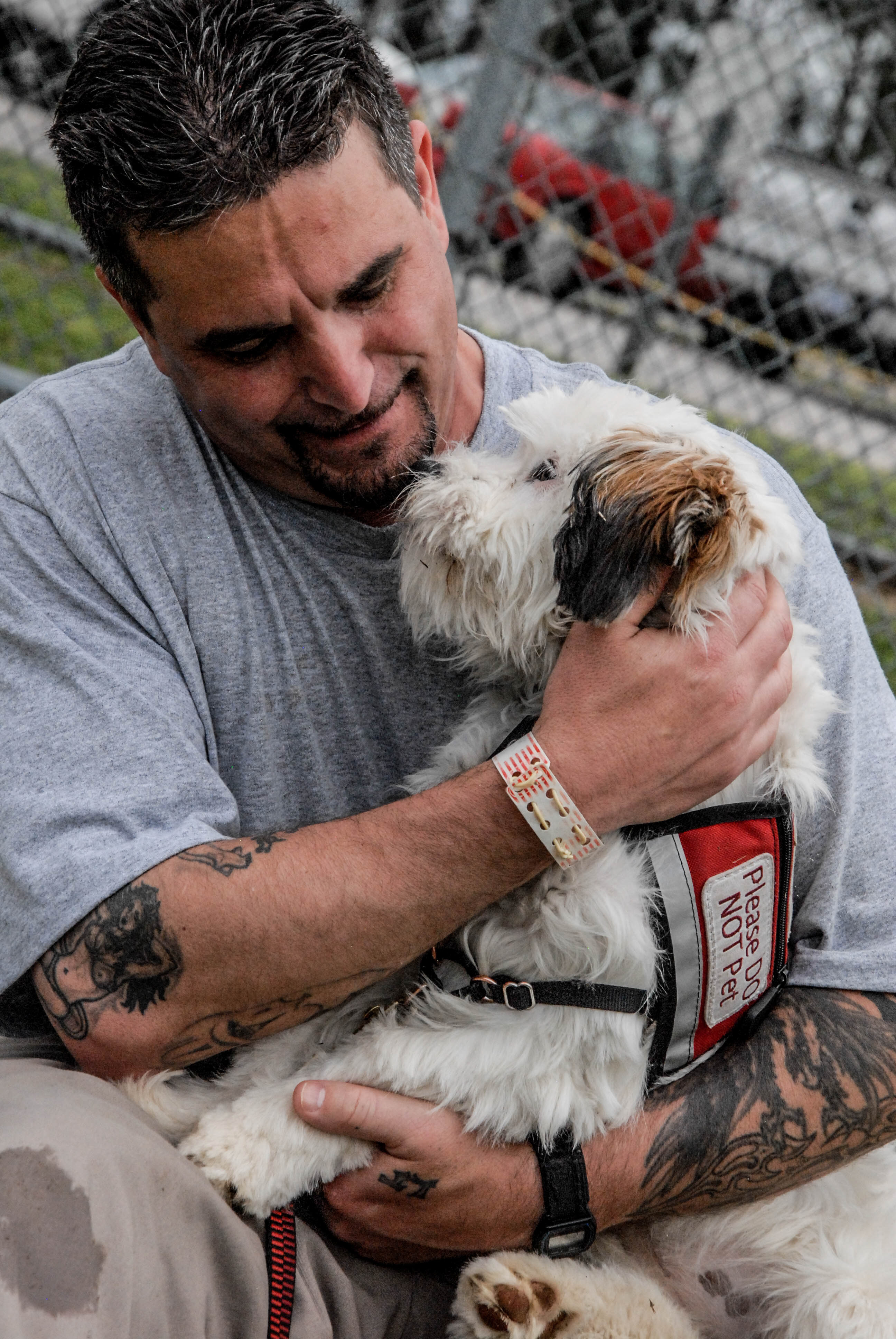 We believe learning and service happen at both ends of the leash, so we work in partnership with the correctional system to teach inmates to train assistance dogs that we partner with people who have disabilities.
This is a triple win: our dogs get full-time attention, training, and love; the inmate-trainers develop interpersonal, leadership, and job skills while giving back to the community despite their incarceration; and our clients receive life-changing support for their disabilities in the form of a highly-trained canine partner.
Our programs are "open-source" and we are committed to freely sharing what we learn through our work. We do this because we believe that sharing ideas, techniques, and research will encourage innovation, growth and high standards in the Assistance Dog industry. We seek to increase the supply and specialties of highly-trained Assistance Dogs available to meet the challenges encountered by individuals and our society as a whole.
By making our techniques and knowledge non-proprietary, broadly available, and free to use, and facilitating the sharing of knowledge within communities solving the same problems, we empower other organizations and individuals to expand on our success, with far greater impact than our organization could achieve alone.
We value the dignity of people, the welfare of our canine partners, and the importance of both environmental and economic sustainability.
We value a high standard in our work, and we believe in the importance of living up to the image we project to the world.
We value integrity, respect and open communication in our interactions, and we believe that by freely sharing information and knowledge, we can contribute to a culture that values learning and improvement over competition.
We value the knowledge, skills, and personality of our employees and believe in the importance of a workplace that reflects those values in both culture and environment.
We believe it is important to pay our employees a living wage that reflects their value to the organization, and support them with a fun, responsive and respectful workplace.